ON DEMAND
List Of Top 10 Medicine Delivery App Development Companies In India 2023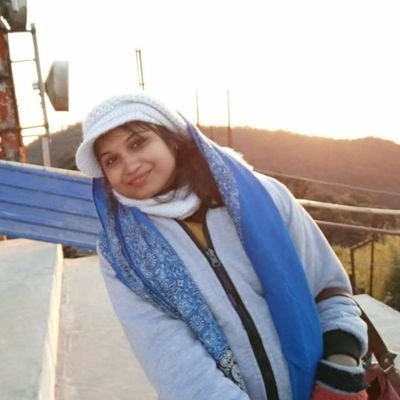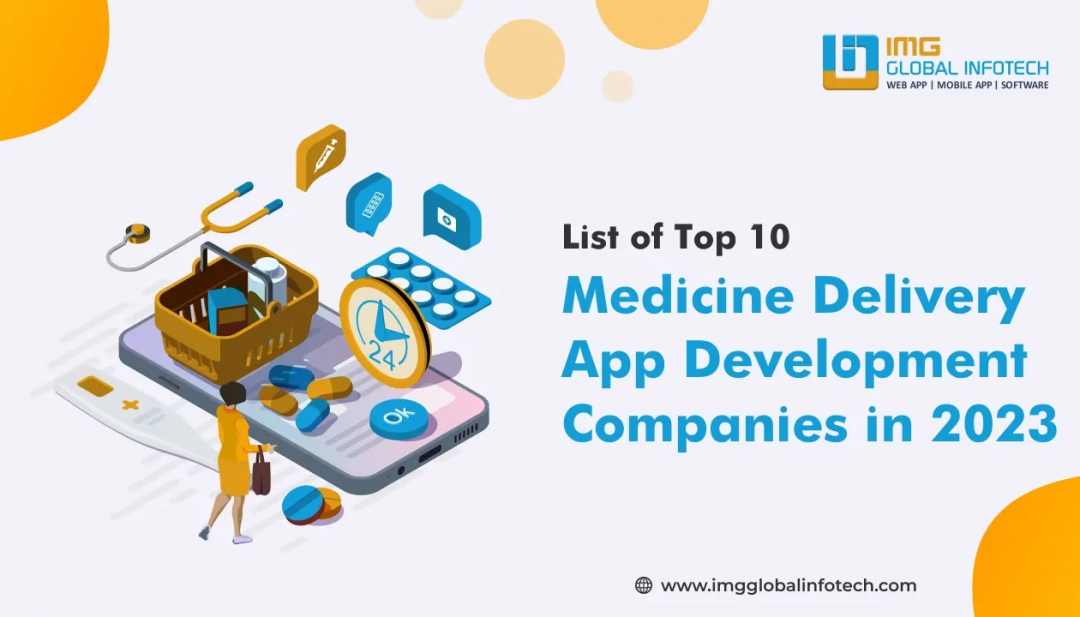 Who would've thought one could order their medicines online and have them delivered straight to their homes? But it does happen, and this is where the online medicine delivery app enters the scene.
The advent of technology has flipped the script for the pharmacy industry. The world is now witnessing the emergence of on-demand medicine delivery app development services.
As per Global News Wire, the global pharmacy market will grow at a CAGR of 14.26% between 2019-2025. And since there's an ever-increasing demand for these solutions post-pandemic, healthcare mobile app development companies in India are building innovative solutions for businesses.
If you also want to enter into this multi-billion dollar industry, you must hire a mobile app developer to develop your online medicine delivery app..
What is a Medicine Delivery App & How Does it Work?
Online medicine delivery apps are a game-changer for the healthcare industry. These apps allow customers to skip the hassles of visiting brick-and-mortar stores and get their prescriptions delivered to their homes. Now you must be wondering how exactly these apps work. Here's how it is possible to deliver medicines to someone's doorstep in just a few minutes:
Users download the app from PlayStore/App Store and register on it.

After successful registration, users build their profiles, adding basic information.

Additionally, they also upload the prescriptions that medical experts on the app can lookout.

Users also get an option to interact with medical experts online.

Users now add medicines to the cart and choose a preferred transaction mode to check out.

After successful payment generation, medicines are delivered to the customer's doorstep.

Moving on, the top pharmacy apps online also offer customers a map feature to help them discover their nearest pharmacy so they can get their medicines delivered at the earliest.
Market Size and Statistics of Pharma Apps
Medicines are something every person needs at some point in their lives. Here, the wish to avoid long queues to buy medicines in medical emergencies has increased the demand for pharmacy apps in the marketplace.

According to Zion Market, the size of the global online medicine delivery market can grow from $42.32 billion in 2018 to $107.53 billion by 2025.
User penetration is predicted to hit 27.74% by the end of 2026.
The average revenue per user can aggregate up to $13.73.
The medicine delivery apps on Apple and Google were 41,552 in 2016. This is expected to reach over 1.5 lakhs by 2025.
All these facts are bound to drive your attention towards building your own online medicine delivery app.

Business Models for an Online Medicine Delivery App
ePharmacy businesses are usually based on three types of business models.
Single-store model: This is helpful if you just want to sell medicines from your pharmacy store.
Aggregator model: Through this model, you can build a pharmacy marketplace and allow local pharmaceutical stores to sell medicines on your platform.
Customer-oriented model: Building your app on this model eliminates the need for middlemen. You get to build a direct connection with the customers.
No matter what business model you choose, online medicine stores are a lucrative option for businesses.
Features of Medicine Delivery App Development
One of the USPs of medicine delivery app development is that they include all the digital tools for tracking your business. To help you keep your online business running smoothly, we list all the important features you should include in your app:

Customers App Features
Your online medicine delivery app should also have some user-friendly features to help customers order in a breeze. These essential features for customers are:
Profile Management: Users must have the option to build their profile. This way, they can register or sign-up to order medicines online with all the essential details, including address, phone number, email address and payment methods.
Search Medicines: This will help customers easily search for their medicines. They can also check whether their prescription is available at your online medicine store and compare for the best prices.
Order Tracking: This feature is a lifesaver for all customers. After ordering the medicines, customers can track their medicine orders in real time. They can also access information like the name and contact of their delivery partner.
Ratings and Feedback: About 92% of customers read a product's reviews before making their final purchase decision. Adding customer feedback and testimonials sections in your app will help your business get a quick turnaround.
Customer Chat: Apps like Netmeds and Pharmacy are the top online medicine delivery apps because they are available to customers 24x7. Ideally, your app should also let customers contact you via a call/chat in case they have any confusion or grievances.
Payment Methods: Enabling customers to use secured payment channels for transactions is vital for every business. This is why your online medicine delivery app should also have multiple payment gateways.
Admin Features
Admin panel provides total control over their business. This includes info on the availability of stock, customer feedback, consumer behaviour, catalogue management and more features and functionalities. Ideally, your admin panel should include the following:
Registration: Like the customers, pharmaceutical companies will also need to register on your platform. You can make this easier by enabling registration through contact numbers, email addresses and social media accounts.
Manage Information: Store owners should be able to manage and edit all the details, including customer contact details, partner medicine stores, medicines and more on your platform.
Manage Products: The registered store owners should be able to add, remove medicines and handle product information at their convenience.
Check Ratings/Reviews: Adding this feature will help medicine store owners easily check customers' feedback.
Manage Shipments: The feature lets stores efficiently manage their shipments so that there's no delay in the medicine delivery.
Manage discounts: Adding this feature allows store owners to add attractive discounts and deals on their products.

Driver App Features
Your business will need a logistics service to manage your deliveries. If you can create a dedicated dashboard for your delivery partners, it will help them optimize their processes. Here're some important features your delivery partners need:

Route Optimisation and Navigation: Drivers can view the quickest route for their delivery with the help of your delivery management software.
Daily Earning Report: Drivers will have a detailed view of their orders delivered and the total time they've worked in a day. This application interface also has an exciting feature that enables partners to generate reports of their earnings and check for the customer's ratings.

How Much it Costs to Create an On-Demand Medicine Delivery App
Pre-determining the cost of your on-demand medicine delivery app development is challenging as the cost varies as per the complexity of your project.
We recommended that you evaluate the cost of the medicine delivery app based on the following features:
Features and functionalities
Application Platform
Location of the developer
The complexity of the app
UI/UX interface
Testing and quality assurance
Technology stack used
Features and functionalities
This is one of the essential elements that evaluate your app development cost. If you are just beginning, we recommend you kickstart your journey with a basic app. This will cost you around USD 10,000.
The cost of your app will go up if you add more features.
If you already have an online medicine delivery app but are planning to switch to an advanced version, it will cost more than USD 25,000.
Application Platform
If you choose to develop individual iOS or Android apps, it will cost you extra pennies compared to a multi-platform app that runs on both iOS and Android platforms.
App Development Team
Aside from these factors, a decisive element that determines the cost of your app is the location of your app development team. This is because labour costs vary significantly from place to place.
It's better to discuss the costs and requirements of your project with your mobile app development company so that the cost goes by your estimation.
List of Top 10 Medicine Delivery App Development Companies in India:-

We have built a list of top medicine delivery app development companies incorporating numerous aspects to help you select the best developers for your business venture:
1. IMG Global Infotech
2. A3logics
A3logics is the top healthcare mobile app development company in India. Their team is focused on developing seamless and rich-featured apps. The apps built by their developers are easy-to-use which boosts user engagement. Moreover, they get it all set up as per your needs.
3. Emizen Tech
Emizen Tech is an app and web development company for the pharmacy that develops apps to help you display offers to customers, receive online payments and send automatic reminders for monthly medicines. They have developed the highest number of online medicines portals.
4. MindInventory
One of the top medicine delivery app development companies, MindInventory, develops top-notch apps to fulfil users' needs. The team of experienced medicine app developers of the company has delivered top-notch and on-demand solutions for various markets.
5. CMARIX
A widely-chosen healthcare mobile app development company in India, CMARIX specializes in delivering on-demand app ideas. They are preferred by most SMEs and startups. You can hire their developers to get your app developed for varied industries, including healthcare.


6. Hidden Brains
Hidden Brains is a top-notch medicine mobile app development company that delivers intuitive real-time user experiences with its on-demand app solutions. Being one of the top healthcare mobile app development companies in India, they offer on-demand app development services.


7. Mobulous
Being an award-winning app development company, Mobulous offers custom app development services. They have a team of experienced designers and some best healthcare app developers to deliver your on-demand solutions.


8. Xeliumtech
One more top app development company, Xeliumtech, has an increased customer retention rate. They've been in the business for 12+ years and have a team of experienced pharmacy delivery app developers to match their customers' business needs.


9. Appinventiv
An on-demand pharmacy delivery app development company, Appinventiv, delivers outstanding mobile app development services to its clients. So far, their developers have successfully delivered projects in varied industries.


10. Brain Technosys

Brain Technosys develops online pharmacy apps that cater to business needs. Hiring their developers will avail you of additional features like identifying the substitutes of medicines, side-effect information and health information.

Final Thoughts
Online medicine delivery has become a popular business venture. This is why big players like Flipkart and Amazon have also entered the competition of online medicine business. If you plan to start an online medicine delivery, now is the right time to be future-ready by hiring a mobile app development company. The demand for medicines has significantly increased; hence, offering an online delivery service will give you a competitive edge.
`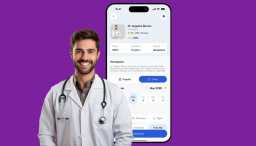 Visiting a doctor is required sometimes. Usually, people prefer contacting a doctor by visiting them after making an app...
Dipti Singhal
May 23, 2023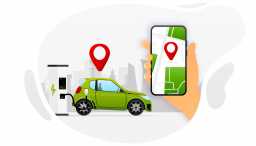 Today, on-demand apps have not only saturated the market, but also conditioned people to order their needs online while ...
Dipti Singhal
May 16, 2023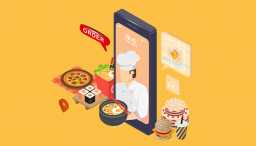 Postmates, Grubhub, and Doordash are online food delivery services that make it as easy as possible. You can order your ...
Dipti Singhal
May 09, 2023