Mobile App Development
Doctor On-Demand Mobile Application Development- Overall Cost And Features
By IMG Global Infotech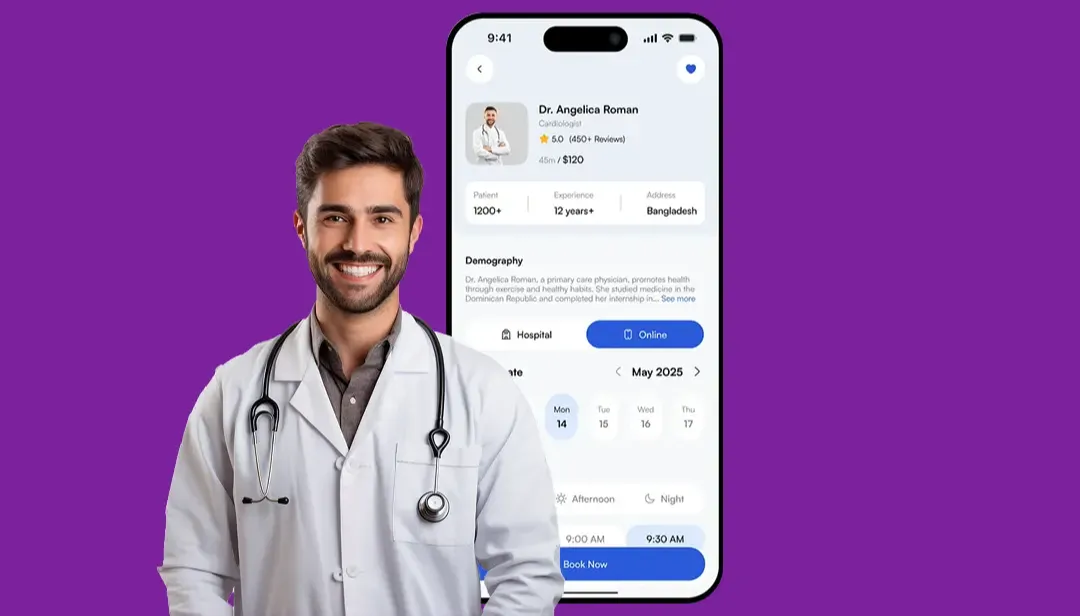 248
Visiting a doctor is required sometimes. Usually, people prefer contacting a doctor by visiting them after making an appointment. But due to the overcrowded number of patients, the busy schedule of doctors, and some other reasons, you need some other way of communication. Keeping that into consideration, there are better options than making an hour of travel for just a 5-minute visit. Moreover, health issues cannot be procrastinated; these need to be addressed.

Thus, the easiest method to visit a doctor is with a smartphone. It eliminates the problem of postponing treatments for whatever reason. By eliminating the need for unnecessary travel, the option of contacting doctors online saves not only time but also money and the environment.

Fortunately, doctor prescriptions are now accepted for the on-demand culture. A large number of doctors began offering teleconsultations as soon as the virus spread over the world. The on-demand doctor app had room to grow thanks to this teleconsultation. With just a few touches on the Smartphone's screen, users may schedule phone calls on Dr On-Demand App. Senior citizens have it best because they don't have to stand in line. In regions with large population densities throughout the year, OPD is frequently crowded.

In developing nations, the packed OPDs are neither pleasant places to wait in nor safe from contamination. The best strategy to reduce the crowds at OPDs is to divide the incoming patients into two groups: those who must visit the OPD and those who can communicate by phone, but the issues are still present.

Consultations over the phone have been available for many years. It has received an additional boost from social isolation and the increased workload of health professionals. The market for such an app is steadily expanding. The market will surpass $40 billion this year. Today, providing services without contamination is best accomplished through online consulting.

Overall, online consulting helps health professionals by relieving their stress. Along with a sigh of relief, they can feel some obligation. They were also relieved of their daily appointment maintenance duties by an integrated clinic schedule maintenance tool.
Let's take a closer look at developing Doctors' On -Demand App Cost and other significance:

Doctor On Demand App: What Is It?

A revolutionary program called On Demand doctor enables patients and doctors to converse virtually. The software is a groove with useful features that streamline online consultation. Providing excellent services to end users in ways that are both charitable and profitable is growing more common in the medical sector.

Need for On-Demand App in Healthcare

The large majority of individuals are currently concerned about healthcare-related issues. Medical professionals must make choices that will preserve public health and save lives. The on-demand industry streamlines and speeds up the decision-making process. A robust IT infrastructure is absolutely necessary to maintain other services. The same is true for the medical sector.

With the help of Doctor Appointment App Development Solutions in USA, smartphones have made it easier for patients to track their health over time. The data offered by the apps can be used to make significant improvements to people's health.

Benefits for both patients and doctors

A doctor must have thorough patient knowledge. The on-demand app's critical evaluations, X-rays, test results, and MRI reports assist with handling emergency therapies. Using medical appointment booking app development, doctors can quickly offer advice and prescriptions on the app for straightforward cases. This makes it possible for medical professionals to provide their patients with better treatment.

The creation of doctor-on-demand apps by Cooperative Relations has done away with the requirement that a doctor visits a patient. Today, only critical care is affected by this restriction. An app is used to manage all visits, test results, and any follow-ups.

On-demand app creation is a blessing for those who reside in remote places. The on-demand doctor app is designed to handle everything, including informing patients about their medication schedules, keeping track of treatment-related problems, and interacting with patients.

Apps for Doctors on Demand Market Statistics

The telemedicine market has grown tremendously throughout the continuing pandemic. The overall telemedicine business was estimated to be worth close to $50 billion in 2019. However, it was anticipated that the global telemedicine market would expand at a 25.8% CAGR from $79.7 in 2020 to $396.76 in 2027. Given the quick expansion, it was also predicted that it would reach $460 billion by 2030. The market has been supported by numerous causes, including increased regular healthcare expenses and subsidies for telemedicine. 93% of patients would use telemedicine apps to manage prescriptions, as per a survey.

Here are some details about telehealth in a pandemic, as reported by a USA survey:
If they experienced any Covid symptoms, 73% of the respondents used a telemedicine service.
Without experiencing any symptoms, 12% of them were already utilising telemedicine services.
The expansion of the telemedicine market with each passing year is seen in the chart below. It is expected to have substantial expansion in the future.

Advantages of the on-demand doctor app

According to studies, the development of on-demand doctor apps has been quite successful for the sector. For both patients and doctors, telemedicine offers a variety of benefits. Let's look at the few most notable advantages that have compelled businesses to hire app developers in USA:

Paying Attention

Often, a doctor is unable to give his patients the required attention when he sees them during busy clinic hours. Patients frequently disregard their health difficulties as a result of less attention. Doctors On-Demand App help to solve the problem of underutilised healthcare and produce better outcomes. Better health recovery and appropriate follow-up are experienced by patients.

Fewer documents

The introduction of telemedicine apps provides patients with a paperless method of care. One of the main advantages of the app is that it relieves stress for both the patient and the doctor. Additionally, administration and management are made simple via on-demand apps.

Practicality

The urban population was the first to use and push the development of the doctor appointment app. It has now spread to remote areas, allowing residents to satisfy their healthcare needs, visit doctors, order medications, and maintain contact with medical professionals.

Because they have less access to doctors and better health services, people who live in rural regions need these apps the most. A rural resident must travel a significant distance to access the service, which occasionally creates an emergency.
Affordable Service

The expense of healthcare services is high. The emergence of doctor-on-demand apps in the USA has decreased the cost of healthcare services and made them more accessible. The entire process has become much simpler.
Less Crowd in the hospital

Solutions for doctor appointment app development enable patients to consult with doctors from the comfort of their own homes. By offering patients support through telemedicine, the likelihood of upsetting their health or emergency needs is reduced. It has decreased the number of patients in the hospital without sacrificing the level of customer service provided.

A higher rate of return on investment

Due to their excellent return on investment, these on-demand app development solutions are becoming more and more popular. Doctors may use the apps to lower infrastructure costs and help maintain strong returns on investment, which is also good for doctors.

Commercial Environment

No market is free from rivalry. The healthcare sector is also. The amount of care provided by each medical organisation varies. The creation of doctor appointment apps enables businesses to increase market share and outperform their rivals.
What is the App's Function?

Online and offline medical services can now be accessed with the highest level of convenience thanks to the development of doctor-on-demand apps. Online consultation is provided for patients, while offline mode allows for testing and consultation to be completed at home:

The app operates as follows:
Doctors create profiles and register. Along with their areas of expertise, they also discuss their years of experience and the cost of online consultation.
The team of professionals verifies the profile. It is important to verify the fake profile. The credentials are checked so patients experience professional service.
Patients can retain their medical histories and register their profiles using their email addresses.
For specific health issues, patients go for the online doctor profile. He has the ability to dial, send messages, and schedule appointments online. Patients can also phone the doctor at home using the personal assistance option.
The doctor converses with the patient and inquires about any health concerns during a video consultation. The doctor might advise regarding the lab test or other pertinent matters following a proper discussion.
The digital prescription is shared via an on-demand app once the consultation has been conducted over the phone or online. Patients use built-in secure payment mechanisms to transfer their money.
Patients have two options for ordering medication: online or through a market.
Things to Take into Account When Creating a Doctor Appointment App

Every app has some loops and instructions that need to be understood. When you engage app developers for your project, you might embrace a variety of novel ideas. The following is a list of factors you should take into account before joining the market:

Set a Target Audience:

You must understand your target audiences prior to developing the application. You must Hire a Mobile App Developers team for Android and iOS solutions. Depending on the majority of device use, you can choose a particular app to develop on-demand medical solutions.

Gather the Doctors information

You are creating an app to connect patients and physicians so they can communicate without having to go to a congested clinic. Unverified data cannot be offered to consumers by a trustworthy app. To create a genuine doctor database, a Mobile App Development Company must first collect and validate the doctor database. You must do this by speaking with medical professionals and contacting organisations. A scanned copy of their license must be uploaded to their profile if they are doctors and are available on your site.

Monetisation

The first thing people always want to know is, "How Much Does Doctor On-Demand Cost," but that depends on how the app is funded. The beginning expense is not as important if your ambitions are lofty and the market you are targeting is huge. You must consider the surrounding business models while you develop apps.

There are various ways to make money:

Featured listings:

The most successful business strategy allows for the listing of physicians and healthcare providers on the app. This listing is paid for by the company. The fee for the member's listing on your app can be paid monthly or yearly.

Advertisement:

You can place an advertisement section over the page after your software becomes well-known. The advertisement could be seen by users, and you get paid for putting it.

Brand partnership:

In order to earn money, the on-demand doctor app may potentially work with another person or organisation. It is the most typical route into well-known companies. It is more akin to an agreement made voluntarily between two or more companies. You can get assistance from local leaders with brand collaboration.

Challenges with Telemedicine App Development:

No industry is immune to the obstacles standing in the way of advancement, and the telemedicine sector is no exception. The development of telemedicine apps needs to be accelerated as there are still many obstacles that need to be overcome before they become widely available.

Security

Data security is the top requirement for developing a Doctor-On-Demand App. The program must maintain the security of the user-shared data. Data security is crucial, and protecting data from cybercriminals is absolutely necessary. The majority of on-demand apps used cloud storage and were developed using cloud technology. The trusted app framework, where all the libraries and frameworks need to be protected with security updates, is what developers must rely on.

UI/UX Design

Although it might not seem crucial, in-app user experience and design are generally the first things users notice. In order for the user to operate the app flawlessly, it must be intuitive. Always make sure doctor on-demand app development has two versions—one for users and one for doctors.

Give both versions of the doctor appointment mobile app development some unique features. To allow users to utilise the app however they like, the app's interface and device compatibility must be at their best.

Scalability

Rich and scalable features are necessary for successful online medical software. Solutions for developing Android apps frequently ignore the app's scalability. Never forget that the app is continuously in expanding mode. The demands are growing along with the number of clients. An app needs to be scalable and have a lot of room for growth.

Even in times of low and high user activity, an app must function with multiple users. Your app must have scalable resources for this. You must personally verify the code and optimise the server to provide a scalable solution.

Characteristics of the doctor on-demand app

You must consider the components of an app and the developers' abilities to create something unique when hiring a team for an Android App Development Solution for any project. The app must be made for both primary and emergency vehicles. The following features for three components make up the on-demand doctors:

The software, also referred to as a user app, assists patients in making appointments, contacting doctors, and placing medicine orders.

Join Now

Simply by inputting their email address or mobile number, patients may quickly sign up or register for the app. In order to safeguard patients' sensitive information, it also offers two-factor authentication through SMS or phone call.

Find Doctors

With the use of this, consumers can identify doctors who are appropriate for their needs. Users can look up doctors by name or conduct a simple issue search. Dr. ABC, a physiotherapist, a doctor, etc., are some search examples.

Examine a doctor's profile

When choosing a doctor to treat them, patients can use this feature to learn more about them, including their specialisation, photo, consultation fees, previously handled cases, degrees, and many other facts.

Booking an appointment

Patients and consumers can schedule doctor appointments here. You can determine feasibility by looking at the appointment time. Both doctors and patients receive notice of the appointment at the same time.

Schedule Reminder

After the scheduled appointment. You continue to receive reminders. This aids patients in remembering the patient and preventing missed appointments.

Electronic consultation

If a meeting is not required and seeing the sick requires social distance. The medium of video consulting is significant. Doctors can examine patients' symptoms, general health, and treatment plans during online video consultation appointments.

Pick a payment method

It makes it simple for patients to pay using several payment methods. If any are offered, there is also the choice of picking out insurance, health plans, and other things.

Ratings and Reviews

Regarding their treatment and services, patients are free to rate and comment on the doctors. By looking at their reviews and ratings, this function also aids patients in choosing a physician.

How does Doctor On-Demand Work-Learn Here

The component for doctors is designed to facilitate scheduling for doctors. They can plan the cancellation timetable and prevent needless time loss.

Doctor Panel

The Doctor's app makes it possible for doctors to communicate with their patients. Additionally, it enables them to arrange their calendars according to walk-in and virtual appointments.

Accept or Reject the Appointment

In non-emergency situations, doctors are allowed to accept or refuse a patient's request for an appointment. If they get overworked, have a busy schedule, or are away from the city, they may also refuse the request.

Make an appointment

The doctors who signed in to the Doctors On-Demand App were able to register the appointments and correctly schedule their time. Most notably, the questions on these apps are as authentic as feasible. Less potential for time waste.

Visual Call

There is a video calling capability in the doctor's app. With the use of technology, doctors may speak with patients via video chats and learn more about the symptoms they are experiencing in order to help them more effectively.

Messages within apps

Doctors can communicate prescriptions with patients at any time, along with any other instructions. Without calling patients to the clinic, doctors can evaluate the tests and treatments or answer a patient's medication question.

ePrescription

Doctors can give patients an online prescription that will remain safe in the database if they are unable to treat the patient in person or the patient is unable to reach the doctor.

Admin Panel Features

This is frequently handled by the administrative staff at mobile app development companies, where all of the app's requirements—from doctor administration to patient inquiries—are taken into account.

The database admin panel displays a list of patients with the necessary information and health concerns. To track the patient's health and make medical decisions, all the data is safely kept.

Control Doctor

Doctor data was also handled using the admin portal. When there are problems or when the subscription expires, the administrator can add and remove the doctors.

Determine Availability

The administrator can use this tool to check the doctor's availability and to make an appointment. The administrator has the authority to postpone or cancel the appointment for rescheduling.

Marketing Tools

In accordance with the retention strategy, the admin also maintained the marketing tools and provided health checks.
Advanced Integration for On-Demand Apps Using Development

The advantages of app development solutions have grown with the introduction of emerging technology. Following suit, the on-demand doctor applications have also incorporated modern technologies to give their users more benefits and freedom; hence creating Doctor On-Demand App Price in the USA is a bit expensive.

Artificial Intelligence

Among the most recent methods for developing Android apps, AI is too well-known. It enables the device or application to act in accordance with the user's behavior. AI and ML are being employed in coordinating healthcare services to grow in popularity. These technologies are included in the creation of telemedicine apps so that they can analyze patient data, anticipate outcomes, and minimize human meddling.

Online Reality

The popular and beneficial integration for doctor appointment mobile app development is virtual reality. This technology is frequently used by health services to have a psychological effect on patients' lives.

Virtual Reality

Medical professionals can introduce components to the real world via augmented reality. It simplifies the process of providing patients with the greatest doctor-on-demand smartphone services.

Voice Lookup

Voice search accounts for around 50% of app searches. The most effective method of using any search engine is voice search. Daily algorithm updates all favor voice search more than other types of search.

Technology Advancement use in Doctor On Demand Apps Development

Making the most of technology is necessary for creating a successful app. Here is a list of some typical parts and the available options for each.
Multiple payment methods, including PayPal, Stripe, and Braintree
Push Notification: Push.io and Twilio
Databases: MySQL, Postgre, Cassandra, MongoDB, and HBase.
In-app calling: Twilio and Nexmo
Big data, Apache, Hadoop, IBM, Spark; real-time analytics.
Azure and AWS cloud environments (Amazon Web Services)

How much does Doctor On-Demand Cost Money?
Undoubtedly, there are several factors that define the Cost of Doctor On-Demand applications. Establishing the app to make it function right for the user takes effort and more. Also, the skill and knowledge one has to develop the app make the Dr. On-Demand Cost higher. Here are some reasons:

App complexity
hours spent developing
Contingent fees
contract format
various platforms
Stack of technologies
All of these considerations justify the actual expense and make the development of Dr On-Demand Fees vary. Additionally, the development team's geolocation has an impact. The price of development based on development hours is as follows:

USA: $150-$250
Europe: $120- $180
Asia: $25-$50

In India, the relationship between price and quality is well-aligned. The developer's hourly rate, in this case, can range from $25 to $50.

There are a number of variables to take into account when discussing the development of Doctors On Demand Cost for scheduling doctor appointments. These elements include frontend and backend development, the complexity and functionality of the app, testing, and deployment. The price to construct an on-demand app for a doctor will range from $30,000 to $40,000. However, this is merely an estimate and may change depending on the needs of the client.

If you decide against developing a hybrid app, Doctor On Demand Cost you between $15,000 and $25,000 to create an Android app for doctors on demand. The cost of developing an iOS app will be between $20,000 and $30,000.

Conclusion

On-demand app usage is on the rise, and fundamental technology has significantly improved, bringing new medical assistance to the world. On-demand video consultations and enhanced health services delivered in the comfort of the home will be the new norm in 2021. You can place an order and receive the test results at home.

From the viewpoint of a top-tier mobile app development business, the article provides a thorough overview of developing at Dr On-Demand Price. Let's work to improve the globe and provide better healthcare for all.