Mobile App Development
The Ultimate Guide To Food Delivery App Development: [Right Tech Stack And Features]
By Lokesh Saini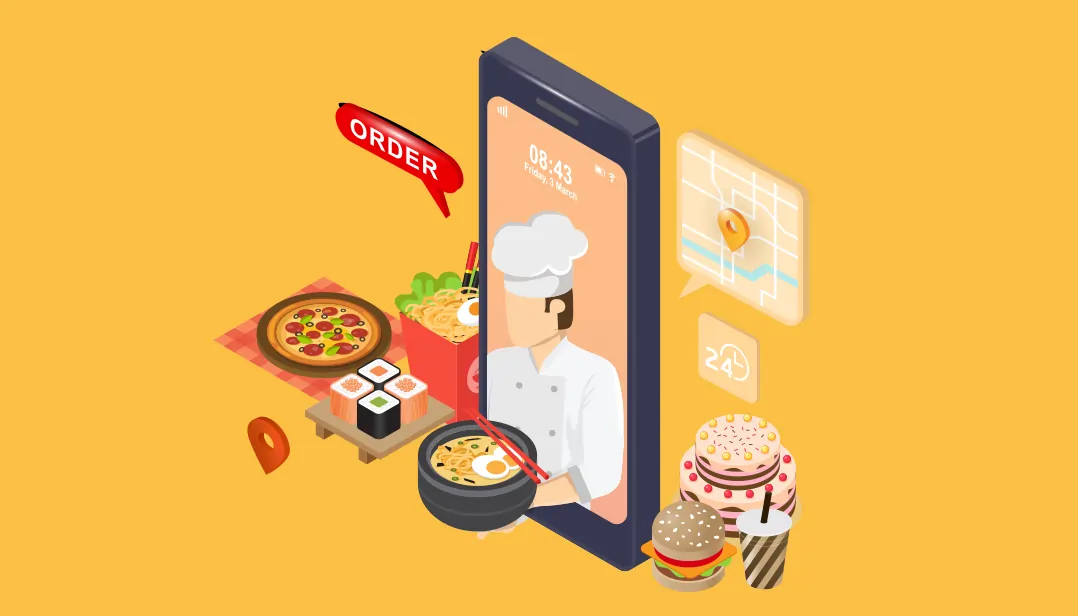 656
Postmates, Grubhub, and Doordash are online food delivery services that make it as easy as possible. You can order your favorite dish online and deliver it to your doorstep. Start Food delivery app development if you want to grow your restaurant business. Your restaurant table is the next frontier in the age of smartphones and the internet. To monetize these trends, you need to hire a food delivery company. This food delivery mobile app development company will help you harness the power of technology to your advantage.
Market Share of Food Delivery Apps and Statistics
In 2022, the market value of the global online food delivery industry was estimated to be 130.2 billion U.S. Dollars. This figure is expected to rise to 223.7 billion U.S. Dollars by 2027.
Statista stated that there is a growing market for food delivery apps. Generated revenue of $401 billion by 2025. had an annual rate of 10.4%.
The pandemic was predicted to have a penetration rate of 23% by the user base.
According to BusinessofApps, there are more than 111 M food delivery apps. In 2020, there were more than 111 M US users. This number is growing.
These on-demand food delivery apps have seen a double increase in order placements over the past three years.
The concept of dining in is on the decline. By 2023, the food delivery market for app-based foods will reach $24.4 billion.
In the past few years, digital ordering platforms and delivery options have seen a massive growth of 30%.
The delivery app development cost in USA will depend on the project's scope.
These food apps can deliver fast and instant food. Customers love the convenience of ordering food from these apps.
How does the Food Delivery Mobile App work?
User Search: The user browses through the menu and selects the dish they want to order. Our experts have added filters to the app to make the decision-making process more manageable.
Confirmation by the User: After placing an order, the user confirms it and selects the payment method. You can use any form such as COD, Credit Card or Debit Card, Ewallet, or integrated in-app pocket. You can use any of these options to make payments.
The Restaurant Confirms Your Order: After you have completed the process. The restaurant confirms your order and gives you an estimate of the time it will take to deliver your food.
Restaurant Prepares Food: The restaurant prepares food for delivery.
Valet Collects the Order: Once the order has been prepared. The valet takes the order and delivers it.
Delivery of the Order: The valet delivers your order to the destination.
You can use in-app features such as calls, order tracking, and location tracking services. The valets can quickly deliver food faster because it is easier to use.
Soon Artificial Intelligence Solutions will take over the responsibility. Drones and robots will deliver the food. Businesses need to offer picture delivery options to make their customers happy. Drones require fewer instructions and can provide food quickly. Once the order has been delivered, the customer is paid. The app owner splits the profit between himself and the restaurant owner.
Although the work process is straightforward, there are some additional challenges you may face as a business owner when discussing home delivery application development.
There are many food delivery app business models to choose from Food Delivery App without Delivery
The famous on-demand food delivery apps allow users to connect with restaurants and food delivery companies. The app allows users to place orders, and restaurants can deliver orders. The app is not responsible for delivery.
You can place an order through Domino's App. Domino's assigns a rider to deliver the order.
With Logistic Delivery App Model
The rider is one of the essential features of food delivery mobile app, as you can deliver your food on time if you have a rider. Customers can use the app to connect with restaurants and place orders. They assign a rider who will collect the food from the restaurant and deliver it back to the customer.
Mobile Apps for Food Delivery
.
1. Food Delivery App - Restaurant Panel
Restaurant owners must register and log in from the app and provide additional information to verify their business. Developers will provide a detailed explanation of the operation to restaurant owners.
Dashboard: Once the restaurant owner has created an account. They return to the dashboard or home page. They can track the status of pending, completed, and orders on their way to delivery. This gives them a better overview and summary of what's going on.
Accept or decline orders: It is essential to on-demand food delivery app development in USA. Delivering food on time is a significant concern. If the delivery takes longer than expected, users can cancel their order. This will be considered a loss and may leave a wrong impression. Delivery is only sometimes possible at all restaurants. It depends on whether the rider is available to accept or decline the order.
Manage Restaurant account: Each restaurant can create an account by uploading its pictures, logo, food images, and hours of operation. You can also offer discounts to their customers for particular items.
Payment In the payment section, users can transfer money to banks or other platforms such as PayPal or Wallet App. You can also view daily revenue reports and all history.
2. Food Delivery App-Rider Panel
We first ask entrepreneurs if they would like to be part of a rider's board when they come to us with questions about how to create a food delivery app for USA.
Login The admin will provide login credentials to the rider to access the application.
Order Request: The customer will place an order and be assigned on a location-based basis. Every order will include the order ID, customer's name, and delivery address. The home delivery application allows the rider to accept or reject the delivery request. If permitted, the rider can also let the customer see his details.
Order Delivery Once the order is complete. The driver will deliver the order to the customer and complete the order. The driver can change order status such as placed, packed, and on the way.
Order History/Logs This panel allows the delivery man to view past orders. Each element of an app such as Zomato must be taken care of when discussing the development of an app. Verification can be made more accessible using status, date range, and ID filters.
Call/Chat - Zomato app development costs include integrating in-app messaging and calling. This allows customers and delivery personnel to communicate more efficiently.
Push Notifications The delivery boy will receive a push notification from the customer for any updates or changes to the restaurant panel, if necessary.
Get Paid Offline/Wallet Delivery man paid monthly or weekly by admin. The delivery man is paid by admin weekly or monthly. Delivery boy can have payment in his in-app wallet if he has an in-app wallet. Otherwise, the price will be transferred to a bank account.
GPS Tracking The customer and the restaurant need to track the delivery boy's location. GPS tracking allows the customer to guide the delivery man to their exact location.
Transaction History This information must be mentioned in the food ordering app documentation. This allows the delivery man to check his past transactions and view his total income with just one click.
Online Support It is vital to include this feature in your app. To get immediate help, the delivery man can contact the support team if he has any problems.
Google Map Navigation, The delivery boy is responsible for delivering the order if accepted. He can see the customer's address on the map and navigate to the designated area through Google Maps.
3. Food Delivery Mobile App - User Panel
After downloading and installing the app from either the Google Play Store (or Apple App Store), customers must log in and register.
Login: The login process is simple with Facebook, Gmail, or a single OTP confirmation sent to the mobile number.
Location When discussing food delivery app development for your business, pick location is an important feature. The list of available restaurants will be displayed based on the user's location.
Homepage: It is essential to carefully consider the relevancy and features of a Zomato app's website. Your app should show you nearby restaurants and the most popular dishes.
Menu, Another prominent feature in an on-demand food aggregator app is the menu. Before making final payments, let the customer review the order and other details.
Place Pickup on the Map. You can let GPS find your location to recognize you or manually place your pick-up location on the map.
Payment - Once everything has been verified and checked, it's time to make the final payment. The user can choose the payment method that is most convenient for them.
Review Screen, The development of a review section is already included in the cost of the food delivery app. Allow users to leave detailed reviews and comments about each restaurant in this section.
Past orders: The app will show past orders, making re-order easier.
Discounts and Offers: Keep your customers informed about deals or offers from their favorite restaurants. Your delivery app developer should include push notifications.
Track Delivery Boy - Track the exact location and track his movements in real-time.
Search This section is located at the top of the homepage's home screen. It is mandatory for on-demand food delivery apps. Price comparison is an essential factor when it comes to food delivery apps. Allow users to search for a specific dish by using the food name.
Refine search: An entrepreneur or a company can have the option to filter things such as delivery time, reviews, and offers and then sort the list according to the user's preference for ascending or descending price.
Advanced Features of the Food Ordering App
Queue algorithm- Order assignment will go through the queue algorithm. The system will automatically detect the current location of the delivery boy and assign him a nearby boy. Administrators can adjust the area that it will serve for queuing.
Push Notifications- Push notifications are a vital feature that Mobile Application Development companies must not ignore. The user must be informed about the status of their order promptly. Users will be notified regularly when their food arrives.
Accurate time Analytics- Real-time analytics panel powered by DB infrastructures and algorithms. It helps you keep control of your operational data and allows you to reach critical events in time to create projections. Analytics Panel gives you real-time revenue projections and reports, allowing you to drive your business by numbers.
CMS News & Articles - Developers can concentrate on different aspects of the app. Administrators can post news and articles about new restaurants in the area or feature a dish.
You can also add value-added features
Get more discounts with coupons and vouchers
The floating window allows live tracking (P2P).
Smartwatch Extension
Lock Screen Widgets
Share the food order on Social Media
Order delivery and pick-up
See what your friends order from nearby.
Book tables at nearby restaurants
Search by Meal Type- Let your app developer simplify navigation for customers. Instead of showing nearby restaurant lists, display options such as breakfast, lunch, and dinner. Different sections should be provided for different food types and user interests.
For example, a section for fast food can be made and delivered in a matter of minutes. The app can also include an area for people concerned about their health and diet. After choosing the main menu item, the user can select different dishes or beverages. The user has the option to customize the meal. This will allow the user to be more flexible in choosing what they want and give an excellent impression of the app.
The Biggest Challenges in creating Food Delivery Apps
The fundamental challenges associated with food delivery app development are another factor that could cause you to reconsider your business. Our food delivery app team has developed and deployed apps like just eat. They share their experiences and the challenges they faced.
Growing Competitive Market
Partnership with New Restaurants
Build a Simple, Yet Impressive UX/UI
Engaging Users with Unique Features
Find the Right Food Delivery App Developer

How to choose the suitable business model to make money?
These challenges and solutions will help you win in the food delivery market. Food delivery apps can generate revenue with the help of Monetization models.
Promotional and Ads: These revenue-generating models allow you to promote your food-relevant ads on their niche restaurant platforms, like cuisines.
Surcharge: Restaurants charge extra for food delivered to customers' homes. This is the model used by logistics service providers.

Revenue share: The Company has charged a small monthly fee to complete restaurant orders to make some profits.
Food Delivery App: Required Technology Stack
Cost - The technology stack also affects the food delivery development cost. A prototype is an excellent idea before you start developing the final app.
Payment – Square API. Braintree & PayPal. Netbanking. Stripe. Ewallet
Cloud Environment - AWS, Google, Azure
Android and iOS have their development frameworks, so this will not be a problem.
Location- To track GPS locations, the business entity can use Core Location Framework for iOS or Google Location API for Android.
Real-Time Tracking - MapKit can be used for Apple devices and Google Maps API for Android. To list restaurants according to their location or range, the app developer can use Foursquare's API and GrubHub API.
Social Login- Registration can be accessed using the Facebook SDK login system or any other social media login.
Cloud- You can trust Amazon Cloud Storage and the auto-scaling web servers to store your data.
Data Storage Amazon S3 Bucket or Cloud front will offer data backup options.
Google Analytics and Mix Panel are available to app developers for performance and analytics comparisons. The best way to make your API available for data handling is from the database.
How do you create a food delivery app?
The user interface makes the On-Demand Food Delivery app development stand out. It's simple and intuitive. A UX/UI designer with experience is an option. A team of two backend developers and two Android developers can be sufficient for successful app development. When an app breaks down, it is essential to have quality assurance and testing professionals.
Project Manager
UX/UI Developers
Android/IOS developers
Backend Developers
QA Teams
Delivery Manager
What is the cost of an app like Uber Eats?
The food delivery app development cost in USA depends on the features and functionalities you want to include in your app. To give you an idea of the cost, a primary food delivery app can run between $12,000 and $20,000, while a more complex solution might run around $40,000.
Developers based in the United States: $50-250 an hour
Developers based in Eastern Europe: $30-150 an hour
India Food App Development Costs: $20-$80 an Hour

The below-described estimate can also be used to calculate the cost of your app (For developing an affordable app with limited features, Android coding, and Android coding); the following bifurcation of activities can be used to calculate the cost of Ubereats.
Technical Food Ordering App Documentation (40 Hours - $1000 to $2500)
UI/UX design (60 hours - $1500 - $3000
Front-end and back-end development (400 hours - $7,000 to $15,000)
MVP Testing (80 Hours) - $2000 - $4000
Polishing and bug fixing (40 Hours - $1000 to 2000)
A significant fact to keep in mind is that an iOS app can be developed for slightly less than an Android one. This is because it requires extensive app testing, which costs much money.

A Sneak Peek at the Future of Food Delivery App Design
Food delivery applications are not just limited to today but have a broader scope. The face of nearly every industry will change in the coming decade due to the many technologies that assist humans with various functions. Let's look at the technologies that will expand the reach of this industry.
Mixed Reality
You can combine augmented and virtual realities to create a real-life experience for your users by letting them watch their food being made. Domino's did precisely the same thing for children!
Expanding the Business Model
There are many options for expanding your business model—new partnering solutions, better collaborations, fascinating food journeys, etc. You can stand out from your competition. If you're looking to invest long-term, it is essential to consider expansion possibilities.
New Delivery Options
Drones are now available for delivery. Cool! Drones and automated vehicles are quickly gaining market popularity and establishing their market status.
Big Data
Analysis and customer data are critical components of big data. Advanced big data solutions make it possible to access customer information quickly. Predictive analysis can better understand customers and help you use their working processes.
Blockchain App Development
Isn't it exciting to use blockchain apps to order crypto food? This is anticipation. It is essential to be optimistic about the future and scale your business accordingly. The cost of developing a food delivery app would include integrating the basic models of these technologies into your application if you plan to invest in the business.

Summary
The market for online food delivery apps has recently experienced rapid growth. It is time for businesses to create a customer-centric ordering app. Two business models are required for food delivery: the logistic support model and the aggregator model.
Restaurant owners must use the aggregator to create a customized app. As a service provider, you can develop logistics support for food delivery models—an app to connect with ordering app businesses. Doing an online food delivery service costs $12k to $20k. But, the cost can rise depending on the model. It would help if you choose between the complexity of your app and food delivery app development.
Business owners should select the best model to monetize their apps. The app generates revenue through advertising, promotion, revenue share, or surcharge. This involves four parties: the restaurant, the delivery company, and the end user.
Key Takeaway
This blog will assist you in taking your business to the next level and generating significant revenue. Zomato and other similar apps are well-established and would quickly enter the market.
Mobile app developers can bring creativity and innovation to your mobile food delivery app like DoorDash, which allows you to stand out from the rest and propel your business to new heights.