Have you been thinking about getting active on your social media marketing strategies? But do you feel that you lack in-depth knowledge about the pros and cons of social media marketing? Worry not! IMG Global Infotech is here to help you out. We have keenly constructed both the pros and cons of social media marketing so that you can make the decisions for your organization accordingly. So, let's get started!
Over the years, social media has grown by leaps and bounds where it has now become the big kahuna of marketing strategy. Each and every business is opting for social media marketing services to advertise their brand exponentially. But as each aspect has its own pros and cons, let's know in detail about the advantages and disadvantages of social media marketing.
Advantages of Social Media Marketing
1. Personalizes Your Brand
Presently, it has become very important for brands to personalize themselves. To connect with customers in a better way, the humanistic perspective of the brand should be shown. For example, showing your followers about the people who actually keep the company running will give them a personal insight about the organization. If you are a company who sells products then showing behind the scenes of the making process of the products will help your followers understand the real hard work done by your company.
Must Read: Build Your Brand Online Presence
2. Helps Generate Leads
One of the essential benefits of social media marketing for business is that it can help you generate valuable leads. There are a lot of social networks that provide advertising formats which is especially structured to generate leads. For example, if your company provides a service then you can create a specific ad on the social media platforms where your followers or potential clients can book the service directly from the social media ad. This way is much more convenient than an ad that takes them to the form of the website to book the service.

3. Better Customer Engagement
With the help of social networks, you can directly interact with your customers or target audience. Your followers also get the chance to directly communicate with your brand. Social media is one of the best two-way communication platforms. If you want to increase the customer engagement in a better way then make sure to respond to the comments, DM's or questions on the social media posts. This step makes your brand lively and engaging.
Must Read: How To Engage More People To Share Your Social Media Content
4. You can know your customers in-detail
Another major benefit of social media marketing is that it creates huge real-time insights about your customers. Those insights can be used to make better decisions for your business since you will get to know the nitty-gritties of your customers like preference, tastes, and requirements. When you get to know what your customers is thinking about your brand, you can further improve your products or services according to the customer's requirements.
5. Know Your Competition
It is important to know where you stand in the market when compared to the competitors. Social media is a great gateway of knowing your competition vehemently. The main step is identifying your competitors and then analyzing their activity on social media. With the help of social media insights, you can get to know about your competitors so that you can take your future decisions accordingly.
6. Better Targeted Advertising
Social media marketing is so flexible that through social media advertisement, your business can be promoted online impeccably. There are robust targeting options available so that you can reach out to the right audience and promote your business in the right way. Apart from the targeting options for ads, there is also other information provided like language, geography, and online behavior so that you can craft the best customized advertisement for your business and which also speaks perfectly to your customers.
7. Helps You Offer Better Customer Service
Often when customers have any queries or if they want to write a review, they generally tune in to the social media platforms. Also, customers usually tend to ask questions related to the products or services on the platform, this is when it is important to have a customer service strategy so that it can be leveraged exponentially. Social media platform is a great medium to offer customer service impeccably. When you invest in it, you are constructing meaningful relationship between your organization and your customer. Because of the flexibility of social media, there is immediate interaction and also customer feedback.
Disadvantages of Social Media Marketing
Be it any marketing strategy, there are always disadvantages which is imperative for you to know. Disadvantages doesn't mean that the marketing approach is not right, the cons help you identify the hurdles so that you can skip them or be prepared for it.
1. Negative Response
Social media is a platform of expressing genuine experiences. Hence, if any of your customers has faced a bad experience with regards to the product or service, you can face negative reviews. For example, on Facebook, a "poor experience" review can be written by your customer on the page which is visible to everyone. It more or less becomes as a catalyst for negative reviews. This can have a negative impact on your social media platforms and eventually on your marketing strategies.
The best way to deal with a negative review is to respond to it. Never leave the complaint unaddressed. Replying to the negative feedback will save up your brand image. Always make it a habit to resolve the issue so that you can regain their trust over time. This will also ensure that you can improve your work through those negative feedbacks.
2. Results Take Time
When you invest time and money in the marketing strategies, you might expect to see quick results. But when it comes to social media marketing, results don't appear immediately. The success of any social media marketing depends on the overall success of the campaign. A lot of posts have to be posted overtime in order to analyze the true success of the campaign. It is all about waiting and seeing for the results before you can readjust the campaign accordingly.
The only way to be ready for this downfall is to be patient. It is important that you should remind yourself that results can't appear until the campaign has run for some time. You can track the performance of your campaign on the social media posts once it is running.
3. Active Monitoring is Required
One among the demerits of social media is that it is important to stay active and engaged all the time when you are overseeing the marketing campaign. Social media platforms tend to change often, hence, it is essential that you stay up-to-date with the trends or else you can lack behind. The overall success of any social media marketing depends on spending time over it to get the best results. The followers on social media are always on the lookout for something new and exciting rather than something mundane and boring, hence, the social media campaigns should be directed towards it.
Don't get boggled up in the social media hassle. Let IMG Global Infotech handle your social media marketing.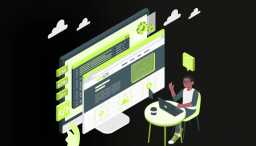 If you wish to have a qualified website that is navigable and well designed and it should contain all the rich-featured ...
Dipti Singhal
Aug 30, 2022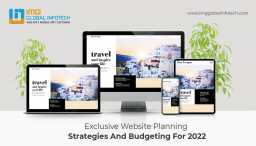 The planning for websites is a crucial part, most companies hire website building companies, and website development com...
Dipti Singhal
Apr 15, 2022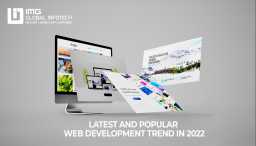 It has been visible that the impact of artificial intelligence is a changing tool. Users expect the website to load fast...
Nick
Mar 10, 2022