Android App Development
Process Of Developing Educational Apps Through Android And IOS
By IMG Global Infotech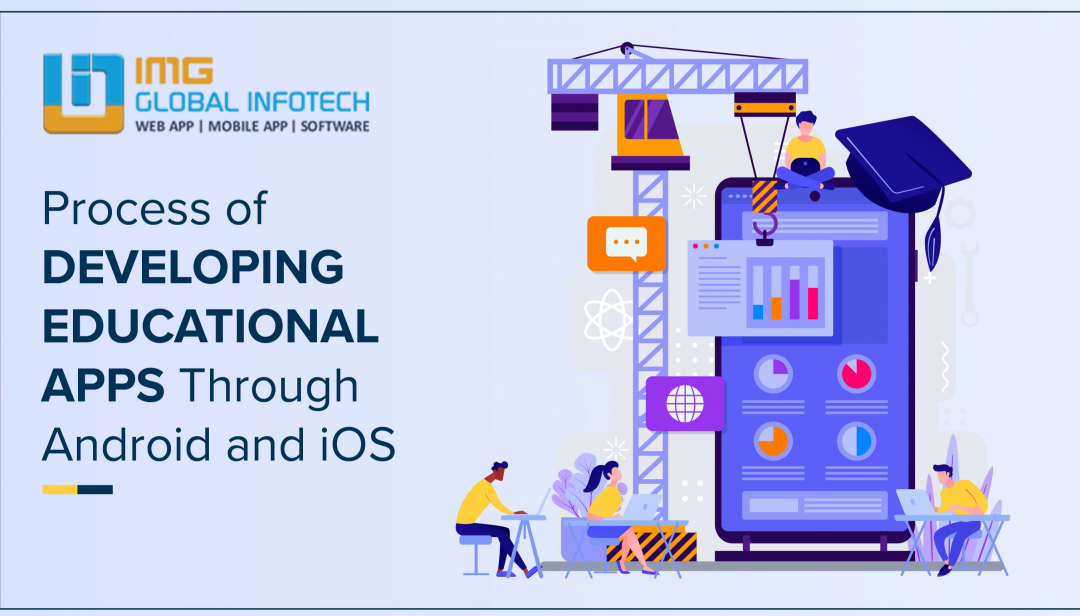 819
If anyone requires learning something, then they can just pick out their phone and can open any educational app. As they have arisen like a full-fledged device guiding every person possessing them. We live in a historical era where learning is as easy as using smartphones. Anyone willing to teach, can share its classes on Google Classroom and spread their knowledge.
The mobile application development company in Jaipur builds the most secure and rich-featured educational app. Educational apps are best listed in the app store of android and iOS. It is not easy to build an educational app, at first you are required to identify its potential cost and then use techniques to build it.
Growth of Online Learning App in 2021
The online learning market is expected to rise more than ever it has. After the hit of the pandemic, the ad tech industry is rising without any hurdle and its growth is expected to increase with lesser investment.
Online learning applications enhance learning ability five times more. These types of learning applications are providing immense support to children and adults as well. By connecting teachers and students remotely, they can contact each other in a supportive manner.
Process of Developing Online Educational App-
There is a certain process for developing mobile applications, and it does not matter which type of application it is supposed to be. Each step in the process is built with a different essence in it. Let's discuss the major steps for developing a mobile application.
Discovery of Idea- Any successful application can be built through the phase of discovery, and this implies the same for mobile application development. The Discovery of ideas means identifying the need and objective to build the app and who will be the target audience. The choice of platform depends on the target audience.
Considering one condition as an instance, if you are developing an application with the purpose of self-training, then AI will enroll and pull out a free test that will match your skills. However, to build apps for students and teacher connections then you should strongly build web applications. When developing a cross-platform app, React and flutter does not come under any constraint. By this, apps can be built for both platforms are android and iOS.
Prototyping- Once you are aware of the idea for developing an application, then a step comes where you are required to put your idea into form. It can be done through designing UI/UX in a way that if you put that together then an interactive structure reflects, which turns out to look like a real app.
The main purpose is to test this prototype created with potential and interactive users. As a result of this step, the prototype will emerge as a polished framework that can be used to build that particular application. It delivers ease in coding as it will be easy to translate that prototype into coding language. This speeds up the process of developing applications.
Development Phase- This phase involves programmers and testers as programmers code and build the app. Then, testers find the bugs by performing manual and automotive testing. However, it is essential to put in notice that there are various readily available instruments available for different functions which need to be installed. As there is more information there, but you don't need to understand it unless you are in direct touch with developers.
After development, testing plays a major role in identifying bugs, and it is suggested to use the BrowserStack tool for automotive testing. However, manual testing gives far better results and requires more effort, as per the standard report. The regression test can be run to test all the development phases after each significant area development.
Deployment- This is the final stage where the app comes into contact with the targeted audience, however, it seems simple but before this, several tasks are required to be done. The tests are the main part that involves stress testing with the server components. This gives access to knowledge of app work when it will come in contact with many users. The DevOps process should be set up at the stage of development for a seamless experience for its users.
Final Word-
The application which can run on cross platforms that are on iOS and Android is required to be developed with a cross-functional strategy. Educational apps are required to be developed in such a way that it attracts both targeted audiences that are teachers and students. Online exam app development is a complex process that is required to get planned and then follow the strategy that is already built.
The mobile application development skills are the major criteria that influence its credibility. You can stay connected with us for getting more information regarding online learning applications.